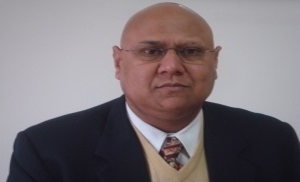 DIRECTOR (DOB. 15-07-1964)
Mr. Joy Kumar Jain
Education
He is a Chartered Accountant (Fellow Member of the Institute of Chartered Accountants of India "ICAI") and a gold medalist in Chartered Accountancy final examinations. He is also an Associate Member of The Institute of Costs Accountants of India ("ICMAI"). Further, he is an Insolvency Professional and a Registered Valuer, both registered with Insolvency and Bankruptcy Board of India ("IBBI"). He is a member of both Indian Institute of Insolvency Professionals of ICAI and ICAI Registered Valuers Organisation.
He did his graduation [B.Com (Hons)] from Shri Ram College of Commerce, Delhi University and has also obtained a degree in Law from Shobhit University, Meerut. He also holds Diploma in International Financial Reporting (DipIFR) awarded by Association of Certified Chartered Accountants, U.K ("ACCA").
He is also a Certified Corporate Director and a Fellow of the Institute of Directors. He has attended Transformational Leadership programme in Indian School of Business, Hyderabad. He also attended "Ulysses" – a responsible leadership and corporate social responsibility programme of PricewaterhouseCoopers meant for its partners. The programme involved classroom training, personal coaching and mentoring and working with an NGO in a foreign country with international participants for eight weeks. He spent eight weeks at Fundacion Paraguaya, Paraguay.
Experience
Mr.Joy Kumar Jain is the Founder and Director of Joy Financial Consulting Private Limited and Sole Proprietor of Joy Jain & Co., Chartered Accountants. He is an Independent Director on the Boards of Essar Power Gujarat Limited and EICL Limited. He was an Independent Director on the board of Essar Power Limited from August, 2013 to January, 2016.
He is also a Trustee on the Board of Literacy India – an NGO focusing on education and women empowerment through vocational training and providing means of employment.
He worked for PricewaterhouseCoopers ("PwC") member firms in India and overseas for over 27 years including over 15 years as a partner. Within PwC, Joy spent 16 months on secondment with Price Waterhouse, Hong Kong and 16 months on secondment with Price Waterhouse, Australia (Sydney).
He has an overall post qualification experience of 30 years. He has sound technical knowledge in valuations, accounting and corporate law matters.While Joy initially specialised in audits, he has over 30 years of experience in carrying out and managing large and complex valuations, due diligence reviews, other transaction related services, corporate restructuring assignments for a host of large Indian and multi-national companies in various industries including oil & gas.
He led the PwC's transaction services team in Delhi NCR region for a number of years. He has also carried out many US GAAP/ IFRS assignments. Joy was in Leader of Global Capital Markets Team (responsible for all GAAP assignments and overseas IPOs) in the New Delhi Office of PwC for a number of years. He was PwC's Technical Partner during 2002-03 and also its Learning & Education Partner for Assurance and Advisory Services for a number of years. He was also the Risk Management Partner for Advisory Services and was a part of the Assurance Risk Management team for a number of years. He was instrumental in implementing/ training people in PwC's new audit methodologies in early 1990s and again in 1999 – 2001.
He has carried out assignments for practically all types of industries such as industrial products, consumer goods, automotive industry, real estate, financial services including banking, mutual funds and private equity, pharmaceuticals, telecommunications, IT and ITES, power, oil & gas, financial services, shipping, printing and publishing, hospitality, healthcare and education.
He has recently advised a listed entity on its Indian Accounting Standards ("Ind AS") implementation and has also provided training on Ind AS to a number of entities. Presently he is focusing on accounting advisory, transaction services, corporate restructuring and valuation services.
He has spoken on number of topics in various workshops/seminars organized by The Institute of Chartered Accountants of India ("ICAI"), and ICSI and ICMAI. He has also spoken on television and has also written articles in newspapers and magazines. He is presently a faculty for Ind AS certificate courses being conducted by ICAI, and also a member of New Delhi Financial Reporting Review Group formed by Financial Reporting Review Board of ICAI.
Personal
Originally Mr.Joy Kumar Jain belongs to Uttarakhand and now based at Gurugram, Haryana. He is married and has one child.